Mr Akinori Hosaka Kodokan 8th Dan 1938 - 2010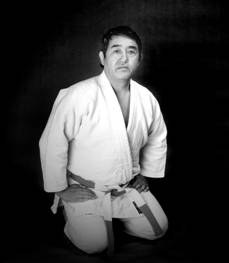 Mr Akinori Hosaka was born in Akita Ken in the province of Akita in the north of Japan's main island on January 17th 1938.
At aged 18 he won the Akita Ken Junior Open Championship and then attended the top Judo University of the time: Nihon University, studying law. His Judo regime at this time consisted of training six hours a day, 6 days a week with competitions on most Sundays.
At 20 years old he was a finalist in the 2nd Dan Kodokan Student Championship and was later graded to 3rd Dan in a Kodokan Batsugun Contest, which is a "Winner stays on" line-up, where anyone who beats five or more of their own grade earns a grade promotion.
At 21 years old he was a finalist in the 3rd Dan Kodokan Student Championship and then at 22 years old fought Isao Inokuma for half an hour in the All Japan University Championships. At the end of the first ten minute round neither had managed to achieve a winning score and so the contest was extended for a further 10 minutes. At the end of which, the situation was still the same so they fought for a further ten minutes at the end of which the decision went to the judges who declared Isao Inokuma the winner (the year before Isao Inokuma had won the All Japan Open weight Championship and would 4 years later go on to take a Gold Medal at the Tokyo Olympics).
After university he mainly trained at the Kodokan and at only 23 years old he was appointed the Sindai Police Judo Instructor. In the same year he won the Gold Medal in the N.E. Japan Championships and was also awarded his 5th Dan.
Suffice to say at this time Akinori Hosaka.s ability was, and still is, well respected by many Japanese judo masters as well as his own contemporaries.
At the request of T.P Leggett in 1962 he came to England at the age of 24 years and was employed by Kitanishikwan (KNK) Judo club in Middleton, Manchester as a British Judo Association coach, where he gained great respect for his fantastic judo ability as well as making many lifelong friends in the BJA. Shortly after his arrival he met with the then British squad and fought and defeated each one, from lightest to heaviest in turn. At the start of each contest he told his opponent which technique he would use to beat them and did so in every contest.
In 1972 he became the chief coach of Sale Judo Club in Sale, Manchester, from which over a period of nearly 40 years he coached many hundreds of Judoka that all regarded him with immense respect and gratitude. He also produced, helped and influenced many players that rose to National and International competitive standards (most notably Jane Bridge, Britain's first World Champion).
In 1983 he was appointed the BJA National Squad's Technical Coach.
In 1985 Mr Akinori Hosaka was awarded his 7th Dan by the Kodokan.
In the last 24 years of his life he dedicated himself to improving British Judo and committed himself to the British Judo Council as their Technical Advisor in 1991 and their Chief Examiner in 1994. He also became an honorary member of the BJA.s Black Belt Association in 1995. During the last twelve years of his life he developed and improved his coaching courses creating over 800 BJC coaches qualified to his unique system of coaching in .The Fundamental Principles of Judo. which promotes the coaching of basic judo skills from beginners through to black belt.
In 2003 Mr Akinori Hosaka received his 8th Dan from the Kodokan it was to be his last Dan grade promotion, and well deserved for the life long services he had given the sport of Judo and to those who participated in it.
On the morning of the 5th April, 2010, aged 72, Mr Akinori Hosaka died peacefully after a short illness. He had loved ones by his side.
Since the announcement of Mr Akinori Hosaka's death there has been an outpouring of heart felt condolences and tributes from across the UK and across all of British Judo, most of which have commented on not only his Judo teachings but of the influence he had on his student.s whole lives. It is obvious that Mr Akinori Hosaka will be greatly missed for something much larger than his Judo knowledge: he personified the very spirit of Judo. Consequently his spirit will live on through all those who practice Judo.
Tributes include:
We say goodbye to a great man of judo who will be remembered for his substantial dedication and contribution to judo. At the same time he will be missed for the judo knowledge that he never recorded or imparted.
Mr Robin Otani 8th Dan, BJC President
I'm truly grateful and respectful toward Mr. Hosaka.s devotion and achievements to the development and diffusion of Kodokan Judo across the world
Haruki Uemura - President of The Kodokan
I appreciate his long years of friendship and I will remember him forever as my friend as well as a brave Judoka. I sincerely hope he will rest in peace and his family will overcome this great loss.
Saburo Matsushita Councilor The Kodokan
He was a great Judo technician, everything was easy for him, he could toss other Judo players around with ease, an outstanding Judo player and a lovely guy.
George Kerr 10th Dan, BJA President
I thank you for your long lasting good friendship. All your friends in Japan, New York and of course England are going to miss you very much. My friend, please take a good peaceful rest and I pray for the comfort of your soul.
Yoshisada Yonezuka 8th Dan
I was deeply saddened by the passing of Akinori. He was a great man, a great Judoka and coach who greatly influenced my judo career and he will be missed by the entire judo community.
Densign White 7th Dan, BJA Chairman
Mr Hosaka was a man of solid principles and integrity and was always in pursuit of excellence both in his Judo and in his life. He touched many lives with his philosophies and principles and he will be sorely missed by so many. Thank you for everything and rest in peace my friend.
Neil Adams MBE, 8th Dan
Aki was a very special friend and a great coach. The help and support he gave me were a big influence on how my coaching career progressed. He will be sadly missed by every one in Judo and all who knew him
Mac Abbott 6th Dan
Mr. Hosaka has left us all with a great deal to think about, and I will always remember him with great respect for all he has done, and the great effort he put into the BJC.
Paul Laskey
This is very sad news. Mr Hosaka will be a massive loss to Judo and a loss of a wise and good friend. He will be sadly missed.
Roy Bury
It was with great sadness that I received the news on Monday evening in St Ives, a massive loss to the world of Judo and all those who he touched in the BJC. Hosaka Sensei will be missed greatly as a mentor and friend by many people young and old.
Bob Cleevely
I have learnt a lot from Sensei's ippon style Judo and will continue to encourage all my coaches at St Albans to carry on Ippon Judo. On behalf of St Albans Judo club I would like to pass on my deepest condolences. We have lost a truly inspirational master from the world of judo but more importantly a friend.
Andrew Paveley
I'm saddened by the death of Akinori Hosaka. Its a loss to Judo in general and the BJC in particular. I will miss his great judo knowledge, and also his sense of humour
Dave Wright 3rd Dan
I feel the loss of a friend, a man who apart from his technical ability and knowledge of Judo, was a friendly figure on the mat. A great loss to Judo.
John Strode 6th Dan
Know that I will miss you and never forget you. You made a difference in my life when I needed help and made me a better person. Thank you for everything.
Tony Nicholls
Aki was a unique individual with an amazing capacity for drawing people to him. He will never be forgotten.
Barbara Nicholls
Deepest regards and respect to Mr Hosaka. He has been a huge influence on my teachings to children and I will pass on what he taught me to future generations.
Mark Maidment
Mr Hosaka has been an inspiration to me on a personal and judo level. He has left a positive legacy within British Judo.
Thomas Grandjean
You taught us how to conduct ourselves both on and off the mat, your pupils learned what it meant to have good morals and high principles. For over forty years I have tried to maintain your high standard and I owe you so much for being such a good friend and teacher.
David Peppi
There are many words to describe Aki: enigmatic, forthright, cantankerous, humble, devoted, always right (certainly when it came to matters of judo), a good teacher and coach and above all, hugely talented.
Sale Judo Club Committee
Aki saw something in me that I did not see in myself. He got more out of me than I thought I had in me.
Tom Brookes
Good bye Mr Hosaka, my coach.
Good bye Aki, my best man.
Dave Nicholls